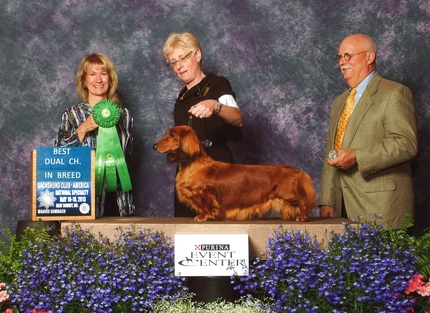 This is Stella - BRONZE Grand Champion, Dual Champion Stardust's Simply Irresistible, RE, NJP, VC, RATN, ROM

Stella was born 9-19-2006. Stella has exceeded our wildest dreams with her enthusiasm for all activities we try. By far however, her favorite thing to do is HUNT. She has a keen eye, excellent nose, and very loud voice!

Our special girl is mainly retired from competitive events, but she occasionally competes at shows or in Barb Hunt.

Stella had 9 pups out of 3 litters. She has passed on her wonderful attitude & loving temperament to her kids. She is now a Register of Merit Excellent which is a breeding award from our national club.



---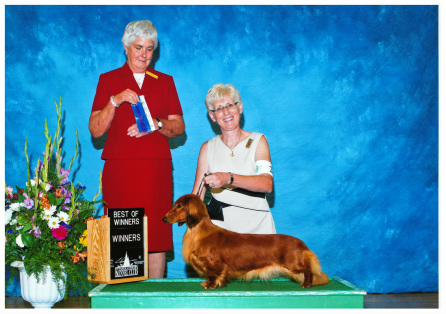 This is Ivy - Dual Champion Stardust I'VE Got Rhythm, RN, CGC

Ivy finished her Field Championship 4/2016 in large Midwest stakes and her show championship 9/17 with a specialty major. In addition, she enjoys barn hunt and rally. She had a singleton pup out of frozen semen from DC Baron von Skaer 12/17, we anticipate a super hunter in this lively baby girl - named Spice!!

Ivy is a super sweet and lovable girl. She is my husbands favorite lap dog!!
---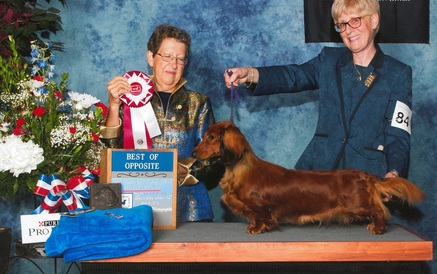 This is Charm - Dual CH Stardust's Good Luck Charm, RN, CGC, RATN

Charm finished both show and field titles within 33 days! (March 19 - April 21, 2016) Her show title was completed with three 5 point majors from Specialty Shows (that is the best you can do!) and she finished her field title with tough runs against top competition.
Charm is currently being shown occasionally for her Grand Championship and is learning agility.

We anticipate lots of fun and adventures to come with this spunky young girl. NEWS FLASH - Charm won during nationals week (2016) at the Met Washington show - best female long. What a wonderful surprise for our girl!


---
Here are the girls that have been the foundation for the Stardust bloodline. They were each spoiled house pets who lived the life of queens.