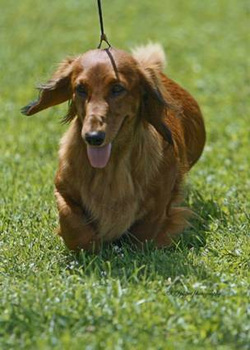 About The Dachshund Breed
The Dachshund is one of the most versatile breeds of dog, having traits to please most people. Originally created as a hunting dog, these characteristics remain today if one chooses to encourage and develop them.

Although they love the outdoors, a Dachshund also loves comfort and will easily slip into a family dog routine that fits your lifestyle. A soft spot beside you on the sofa, or more likely on your lap is appreciated by most dachshunds. In cool weather they love to burrow underneath a comfortable blanket and sleep the day away.

Where else can you find a breed of dog with so much diversity? Coming in three different coat varieties and two different sizes, there is surely a dachshund that will appeal to you. The Smooth is the variety that immediately comes to mind for most people, the Long hair is the most glamorous and the Wires are the most comical.

All the Stardust Dachshunds are the Standard Long haired Variety. The Standards will generally weigh between 22 -26 pounds for a female and 26-30 pounds for a male. The demeanor of the Long haired Dachshund seems to reflect their overall softer appearance. Generally, they are more laid back than the other varieties. But, don't let their kind expression fool you, they are often the most avid hunters and quite effective in field work.

The long hairs coat does require more maintenance than the other dachshund varieties. A good brushing is required frequently to minimize shedding and to remove items picked up during their outdoor excursions.

Dachshunds are a smart and loving breed. Basic obedience classes are highly recommended to help build a good bond with your dachshund.
Dachshund Traits

Dachshunds have deep hunting instincts, many traits reflect this.

Digging: Dachshunds will dig because of their instincts to go to ground, that is, to dig up burrows and find small rodents or other game. However, you don't have to worry about your yard being all dug up unless there is a scent for the dog to go after. They also love to dig into their blankets to get them positioned just right, this is awfully cute!

Barking: Dachshunds are not indiscriminate barkers. They should not bark at every leaf that blows through the yard. They generally are territorial and will bark when something new comes into their yard or home. It is up to the dog owner to determine how much is acceptable. They can easily be trained to be quiet with consistent methods.

Running: Because most Dachshunds have a strong hunting instinct, a secure fence is required to keep them in. Once on a scent they forget all manners and obedience training and will follow the scent at all cost - including going through electronic fences.
​
Health Issues
Dachshunds are generally a hardy breed and many have a lifespan of 12-14 years or more.
As a breeder we have laid the groundwork for your Dachshund's good health by only breeding our best dogs with sound temperaments and excellent health, providing the proper immunizations and worming, feeding high quality food and raising in a clean, loving environment.
We are now going to start to get CHIC numbers for our breeding dogs.
What is CHIC?

The Canine Health Information Center, also known as CHIC, is a centralized canine health database sponsored by the Orthopedic Foundation for Animals (OFA). CHIC, working with participating parent clubs, provides a resource for breeders and owners of purebred dogs to research and maintain information on the health issues prevalent in specific breeds by establishing a recommended protocol for breed specific health screening and recognizing dogs tested in accordance with that protocol

CHIC also maintains a DNA Bank that collects and stores canine DNA samples along with corresponding genealogic and phenotypic information to facilitate future research and testing aimed at reducing the incidence of inherited disease in dogs.
Our breeding dogs will have the following tests done: CERF (Eye exam), Heart Auscultation, Patella Luxation (floating kneecap), Blood panel, urinalysis, Brucellosis
Dachshunds are not immune to health issues including Degenerative Disk Disease. As a breeder, we absolutely will not breed any dogs that have back issues. True degenerative disk disease usually manifests itself between ages 4-6, due to that, we try to use stud dogs that are over age 7 or from bloodlines we know very well.
Obesity is another serious health risk. Dachshunds are notorious beggars and with their sweet eyes many owners succumb to feeding them much more that they should have. A fat, overweight dog is much more prone to medical and back problems than a lean muscular dog. It has to be stressed over and over that a dachshund not be allowed to be overweight. For a guideline, a male should not weigh more than 29-32 pounds and a female no more than 26-28 pounds, this is for a standard of medium to large bone.
Our dogs are allowed to run, jump, do stairs etc. with common sense. They are all in good physical condition and lean.
Fun Things to do with your Dachshund
As you can see by the various initials before and after the dogs registered names, I participate in shows, field trials, earth dog, rally, obedience and have just started with
Barn hunt. There are so many things you can do with your dachshund! A busy and tired dog is a HAPPY DOG!
For additional breed information, please refer to the Dachshund Club of America's web site or write to me at stardust3940@aol.com.
---